Facetiously called "Marathon" by a famous author and resident, Wyncote is a close-in suburb of Philadelphia, Pennsylvania. The area was discovered in the late nineteenth century by wealthy industrialists and capitalists who made it the first outpost of the Gilded Age. From bee-keepers to international bankers, entrepreneurial congressmen to dabblers in the novel sport of professional baseball, this is the story of the millionaires - followed by more ordinary citizens - who flocked to the new village for the clean air, lush landscapes, and picturesque rolling countryside that promised "calm contentment and restful influences of country homes."
Making Marathon
chronicles the history of that "restful" community from William Penn to 1900, when the basic structure of the village we know today was created.
~~~~~~~~~~~~~~~~~~~~~~~~~~~~~~~~~~~~~~~~~~~~~~~~~~~~~~~~~~~~~~~~~~~~~~~~~~~~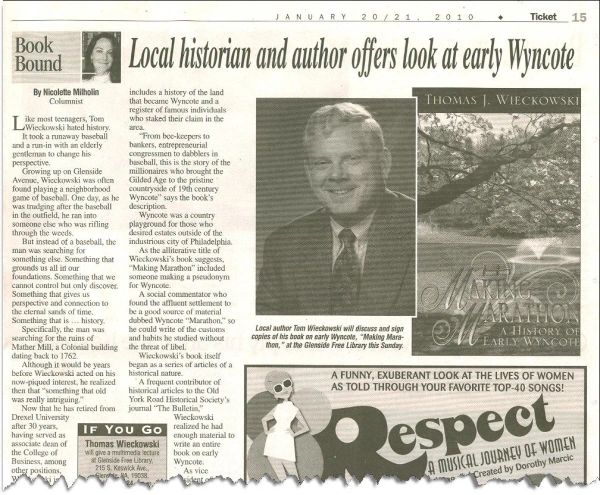 Click here to read the full text of the article in the Montgomery Newspapers Website.
~~~~~~~~~~~~~~~~~~~~~~~~~~~~~~~~~~~~~~~~~~~~~~~~~~~~~~~~~~~~~~~~~~~~~~~~~~~~
Header Photograph: The Garden arcade at Curtis Arboretum, Wyncote. Header photos by Tom Wieckowski